2020 Durban July news – Justin Snaith runs through his squad for Saturday
Justin Snaith spoke to IOL about his Durban July runners
He claimed favourite Belgarion was "way under-handicapped"
Do It Again is apparently over his injury problems
Snaith also said that Bunker Hunt is "a huge runner" in this year's race
The 2020 Durban July will be staged behind closed doors on Saturday

Anton Marcus hugs his horse "Do it Again" after winning the Vodacom Durban July 2018. (Getty)
We bring you the latest Durban July news, as Justin Snaith talks confidently about his five runners in the 2020 Durban July on Saturday 25th July.
Belgarion
2020 Durban July Handicap Favourite
GET 4.5 HERE
18+ only. T&Cs apply. begambleaware.org
Just Snaith has never been a man to mince his words. Confidence is one of the reasons why Snaith has risen to the top of the training ranks in South African in such a short space of time.
On the eve of the 2020 Durban July, Snaith took his quintet of runners to Greyville for a pre-race workout on the July Gallops. The three-time Cup-winning trainer then spoke IOL, providing vital quotes on all five of his possible runners.
"My horses are all very well and it is going to take some very good horses to beat them." Snaith said, "They are primed and ready and whoever beats us can be proud they have a superstar."
The one who impressed Snaith most during last week's workout was Belgarion, who currently tops the Durban July betting odds.
"He is so ready, he couldn't even blow out a candle after (last week's) workout. I would be interested to see his 800m to finish time because he did it in literally a canter if you see his recovery. Everything has gone to plan and Richard (Fourie) is super excited, maybe too confident but that's Richard."
"Horses don't win July's, jockeys win July's so I'm very happy I've got the right guys on. We've meticulously programmed him to carry 53kg. He's way under-handicapped. He won't be carrying 53kg in next year's July and he's certainly not a horse who should be carrying 53."
Do It Again will bid to become the first horse to win three Durban July Handicaps. The two-time defending champion hasn't enjoyed the best of campaigns, but his trainer revealed Do It Again was suffering with ulcers at the start of the season, and feels he will come on plenty from that run in the Gold Challenge.
"You could see he just got tired in the last bit (of the Gold Challenge). He won't be getting tired next Saturday."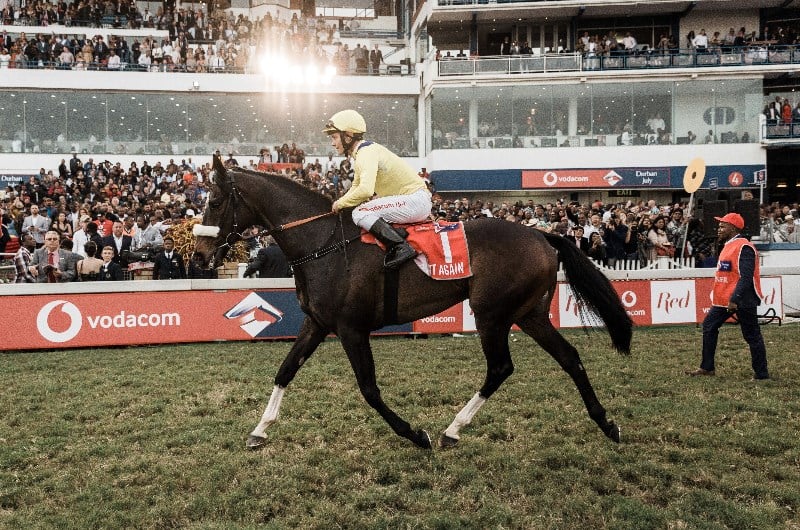 Bunker Hunt has had his stamina questioned by many, after romping to victory on his last start over seven furlongs. Snaith isn't worried, though, and was extremely impressed with what his four-year-old produced earlier in the week.
"I thought it was phenomenal. Swift Surprise (his companion) is a proper galloper and at home is a very good line horse and quite frankly Bunker Hunt looked quite impressive."
"In my honest opinion Bunker Hunt would have won the Gold Challenge in that slow run race like he did in the Drill Hall but he would have been given full penalties and kicked himself out of a chance here."
"I think the race being run behind closed doors brings a horse like him into contention because normally on a race day he gets a little bit heated up."
"He carries 55kg and if Belgarion is theoretically the best-weighted horse I think Bunker Hunt is second best. He is a huge runner."
Silvano's Pride is a likely pace-setter for Snaith's squad, and her trainer revealed he wouldn't be asking jockey, Sereno Moodley to ride his filly against her front-running instincts.
"She only knows one way to race and that is to go flat out." Snaith said, "She has no brakes and good luck to anybody who catches her."
"That is the way she races and we're not going to change anything. She is very well at home."
The final member of Snaith's squad is fellow female Miyabi Gold. Although Snaith didn't seem overly confident that she would be able to match last season's fifth-place finish, he said his five-year-old was a mare who had "never run a bad race" and she was more than worthy of a second crack at the Durban July.
Durban July NewsPreviews & Tips