2020 Durban July news - Marcus pleased with Vardy and Twist Of Fate workout
IOL caught up with trainer Adam Marcus on the even of the 2020 Durban July
He expressed his pleasure in the way his two entrants in Saturday's main event prepared for their trip to Greyville
Twist Of Fate will be bidding to build on the third-place he recorded 12 months ago
Queen's Plate winner Vardy is one of the fancied runners for the Cup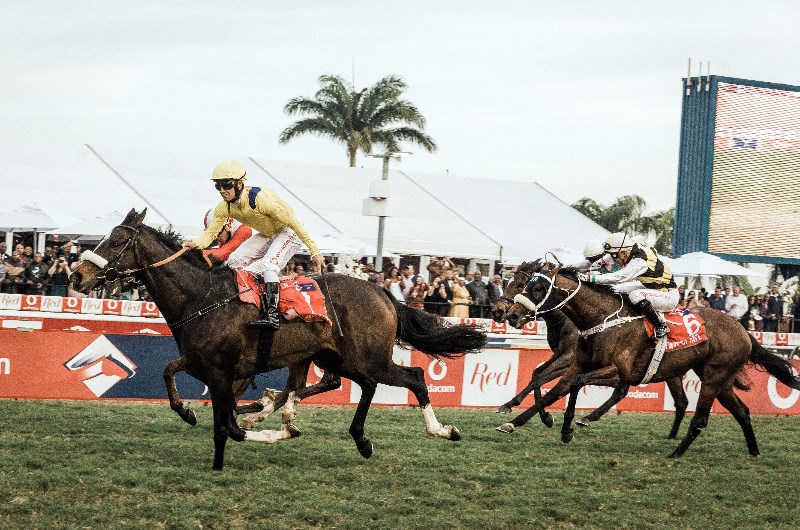 Twist Of Fate (right, num six), seen here finishing third last year, will represent Adam Marcus in the 2020 Durban July. (Getty)
Trainer, Adam Marcus discusses his two runners in Saturday's
Durban July
, after putting Vardy and Twist Of Fate through their paces last week.
On five occasions, Adam Marcus has celebrated the successes of his uncle, Anton Marcus at Greyville. Anton is the winning-most jockey in Durban July history, and the 50-year-old will bid for a sixth title when he reunites with Do It Again this weekend.
While the spotlight has always been firmly fixed on Anton, 2020 will be the first opportunity Adam Marcus has had to snatch the headlines.
Marcus has been dreaming for eight long years about having a runner in the Durban July. On Saturday, he'll throw two into the mix. Vardy - who handed Marcus the biggest win of his career when landing the Queen's Plate back in January - will be joined by Twist Of Fate, who finished third in last year's Durban July when trained by Joey Ramsden.
In their final piece of work before heading to Greyville, Twist Of Fate hammered Vardy on Summerveld bottom. This may be a cause of concern for some trainers, especially when you consider Vardy is currently the 7.0 third favourite. Adam Marcus, on the other hand, wasn't worried in the slightest when he spoke to IOL yesterday.
"You put him (Vardy) with a weak maiden and he will come out second best." Marcus said. "He just does what he needs to do, he saves it all for the racecourse."
"Twist Of Fate is a very good work horse, at home there are very few horses who can beat him when paired up."
"Twist Of Fate I thought put up an exceptional gallop and has come through it exceptionally well. I thought he strode out well and just the manner and the way he did the gallop I was very impressed."
R25 Free Bet
Free Bet Offer On Durban July Day
JOIN HERE
New customers only. 18+ T&Cs and wagering requirements apply.
"We're fitting the blinkers on him, so I want him to be up there, obviously not to lead but just behind that early speed. He's still a colt and he's starting to think a little bit in his work and I just think the quarter cup blinkers should benefit him."
Marcus continued, "Vardy always gallops in a laid back manner, so I was very chuffed with him, he strode out well, he's also come through his gallop very well, so very pleased." We're going into the final week confident that their level of well-being is where we want it to be and they are looking great."
"We always hope they are true run races. Silvano's Pride is in the race and Padre Pio also has a lot of natural speed so hopefully it's a true run race. I hope it is not a case of just a lot of early speed to get their positions and then everyone starts putting the brakes on and easing back. If they maintain the pace throughout the race then it's going to be a true run race and the best horse should win."
"I am always of the opinion we don't need a fast pace for Vardy but we don't want a crawl either. He got caught out in the Grade 1 last time (Hollywoodbets Gold Challenge) where the race was actually given to Rainbow Bridge, who just dictated at his own pace and sprinted for home. So, we don't want them to be going flat out because then it is a very testing 2200m, but if they can go a fair pace throughout that will give them every chance."
Vardy remains a 7.0 chance in the 2020 Durban July betting. Twist Of Fate can be found at a longer price of 19.0, as he bids to give Adam Marcus his first taste of Durban July success.
2020 Durban July Odds
Durban July NewsPreviews & Tips