Horse Profiles
2022 Durban July Contenders - Justin Snaith's Runners
We look at Justin Snaith's runners in the 2022 Durban July
The Durban July will take place on Saturday 2nd July
Snaith has saddled the July winner five times
Do It Again will be looking for his third victory
Pomp And Power, Jet Dark, Hoedspruit and Belgarion will also run for Snaith this year

Jockey Richard Fourie rides his horse, "Do It Again", at the finish line to win the 2019 edition of the Durban July. (Getty)
Justin Snaith's Durban July Runners

Belgarion

Do It Again

Hoedspruit

Jet Dark

Pomp And Power
Justin Snaith saddled five runners in this year's Durban July, as the Cape Town trainer looks for his sixth victory in South Africa's most famous race.
Justin Snaith has saddled over 2,500 winner since taking out his licence in 2000. 2008 saw Snaith enter the Durban July winners enclosure for the first time, when Dancers Daugthter dead-heated with Pocket Power. Since then, the 45-year-old has taken his tally of victories to five, winning for three successive years between 2018 and 2020.
Snaith will run five of his best horses in the
2022 Durban July
. Here's a look at his quintet of contenders...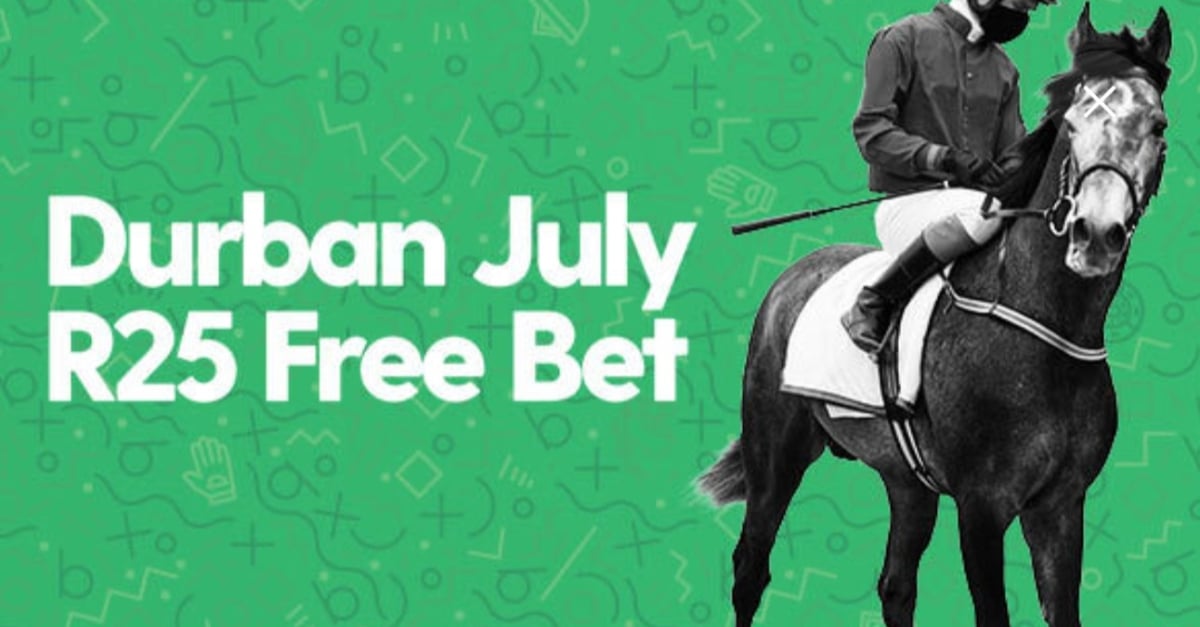 Justin Snaith's Durban July Runners 2022
Belgarion
Jockey - Piere Strydom
Owner - Mr A N & The Hon Mrs G R Foster
Weight - 59.5kg
Draw - 11
Breeder - Mr A N Foster
Sire - Dynasty
Dam - Riva (GER) by Acatenango (GER)
Age - 6
Colour - Bay
Sex - Gelding
MR - 128
Career Record: 16 runs, 8 wins, 4 places
Stakes Won: R2,048,125
Runs at Hollywoodbets Greyville - 4 (2 wins)
Runs at 2200 distance - 2 (1 win)
Notable Runs:
1st in the 2020 Vodacom Durban July (Gr 1) 2200m
1st in the 2020 World Sports Betting Green Point Stakes (Gr 2) 1600m
2nd in the 2021 Cape Town Met (Gr 1) 2000m
3rd in the 2021 L'Ormarins Queen's Plate (Gr 1) 1600m
Do It Again
Jockey - Aldo Domeyer
Owner - Messrs N Jonsson & B Kantor & Nancy Hossack
Weight - 58.5kg
Draw - 2
Breeder - Northfields Stud (Pty) Ltd
Sire - Twice Over (GB)
Dam - Sweet Virginia by Casey Tibbs (IRE)
Age - 7
Colour - Bay
Sex - Gelding
Merit Rating - 126
Career Record - 28 runs (9 wins, 13 places)
Stakes Won - R9,249,100
Runs at Hollywoodbets Greyville - 12 (5 wins, 3 places)
Runs at 2200m Distance - 4 (2 wins, 1 place)
Notable Runs:
1st in the 2019 Hollywoodbets Durban July (Gr 1) 2200m
1st in the 2018 Hollywoodbets Durban July (Gr 1) 2200m
1st in the 2019 L'Ormarins Queen's Plate (Gr 1) 1600m
1st in the 2022 WSB 1900 (Gr 2) 1900m
2nd in the 2019 WSB Cape Town Met (Gr 1) 2000m
3rd in the 2022 HKJC Pool Champions Cup (Gr 1) 1800m
3rd in the 2022 Hollywoodbets Durban July (Gr 1) 2200m
3rd in the 2018 Green Point Stakes (Gr 2) 1600m
Hoedspruit
Jockey - Craig Zackey
Owner - Mrs S Viljoen
Weight - 53.5 kg
Draw - 3
Age - 4
Colour - Bay
Sex - Gelding
Merit Rating - 116
Breeder - Wilgerbosdrift & Mauritzfontein
Sire - Legislate
Dam - Londalozi by Trippi (USA)
Career Record - 17 runs (6 wins, 6 places)
Stakes Won - R655,975
Runs at Hollywoodbets Greyville - 1 (1 place)
Runs at 2200m Distance - 0
Notable Runs:
1st in the 2022 Glorious Goodwood Premier Trophy (Gr 2) 1800m
1st in the Nelson Mandela Bay Racing Algoa Stakes (Listed) 2000m
1st in the 2021 WSB Legal Eagle Stakes (Gr 3) 1800m
3rd in the 2022 Daily News Media Pinnacle Stakes 1600m
Jet Dark
Jockey - Bernard Fayd'Herbe
Owner - Messrs C T Crowe & N Jonsson
Weight - 60
Draw - 9
Breeder - Drakenstein Stud (Nom: Mrs G A Rupert)
Sire - Trippi (USA)
Dam - Night Jet by Jet Master
Age - 4
Colour - Bay
Sex - Colt
Merit Rating - 126
Career Record - 14 runs (6 wins, 5 places)
Stakes Won - R2 606 600
Runs at Hollywoodbets Greyville - 4 (1 win, 1 place)
Runs at 2200m Distance - 0
Notable Runs:
1st in the 2022 L'Ormarins Queen's Plate (Gr 1) 1600m
1st in the HKJC World Pool Champions Cup (Gr 1) 1800m
1st in the 2021 L'Ormarins Queen's Plate (Gr 1) 1600m
1st in the 202 Beaumont Sud Langerman (Gr 3) 1500m
2nd in the 2022 WSB Cape Town Met (Gr 1) 2000m
3rd in the 2022 Hollywoodbets Gold Challenge (Gr 1) 1600m
Pomp And Power
Jockey - Richard Fourie
Owner - Messrs Greg Bortz & E A Braun & Greenacres Trust (Nom: Mr N M Shirtliff)
Weight - 53kg
Draw - 8
Breeder - Maine Chance Farms (Pty) Ltd
Sire - Vercingetorix
Dam - Peru by Candy Stripes (USA)
Age - 3
Colour - Chestnut
Sex - Gelding
Merit Rating - 118
Career Record - 11 runs (5 wins, 3 places)
Stakes Won - R1 290 275
Runs at Hollywoodbets Greyville - 2 (2 places)
Runs at 2200m Distance - 0
Notable Runs:
1st in the 2021 Concorde Cup (Gr 2) 1600m
1st in the 2022 Jonsson Workwear Cape Derby (Gr 1) 2000m
2nd in the 2021 Cape Guineas (Gr 1) 1600m
2nd in the 2022 Daily News 2000 (Gr 1) 2000m
3rd in the 2022 WSB Guineas (Gr 2) 1600m