2022 Durban July News - Quotes from connections
Key quotes from connections ahead of the 2022 Durban July
This year's Durban July will be run at Greyville on Saturday 2nd July
The trainers of this year's runners have been talking to the press during the build-up
Read key quotes from Mike de Kock, Justin Snaith, Michelle Rix and more

South African trainer Mike de Kock will saddle four runners in this year's Durban July. (Getty)
18 of South Africa's finest flat racers will enter the stalls at Greyville on Saturday, ready to battle it out in the 2022 Durban July.

Ahead of this Saturday's
Durban July
, the connections of this year's entrants have been busy talking to the press. Read what the trainers have had to say about their runners here...
2022 Durban July Quotes
Mike De Kock discusses his runners
Safe Passage
2022 Durban July Contender
GET 6.0 HERE
New customers only. 18+ T&Cs and wagering requirements apply.
Al Muthana
"He's done very, very well (since arriving in KZN). In fact, he's grown another leg here. He's in a good place. It's just the distance with him. He's not 100% going to get the distance. He's not really bred for it. We'll ride him for luck from the draw (stall 16)."
Aragosta
"I don't mind the draw (stall one) at all. He's a horse that can go forward if he can get there. He doesn't always have the speed out of the gate. We had him forward last time and he ran well, so that's roughly what we want to do with him."
Safe Passage
"He won (Daily News 2000) well. He accelerated very well off a reasonable gallop. I was very happy with that. He got quite a stiff penalty for that win and I don't think the handicapper got that right. I don't think Pomp And Power ran to form."
"He's got to be good enough, and tough. Whether they (the three-year-olds) are good enough is always the debate. It's tough to get solid lines of form into the older horses and obviously the handicapper plays his part too. He's got to give the other three-year-olds a kilo-and-a-half, so it's not going to be easy."
Sparkling Water
"She must be a big runner. She's extremely well-handicapped and this is a good distance for her as well. She's in a really good place at the moment."
"She's a completely different horse (to de Kock's other Durban July winners). She's more of a staying, galloping type."
Vaughan Marshall talks up the chances of Linebacker
Linebacker
2022 Durban July Contender
GET 4.5 HERE
New customers only. 18+ T&Cs and wagering requirements apply.
"The switch has flipped and he's very, very well. He's done everything I've asked him to do and he's enjoyed it. We're just about there. We'll have one more good sprint up (before the Durban July) and he'll be spot on."
"I was over the moon (with his public gallop). The jocks did everything I asked them to do and he finished off his work well. They made a big thing about him not having blinkers on, but you don't put blinkers on every time the horse works. We keep them as a surprise and we hope they'll have the right effect on Saturday."

Justin Snaith goes through his five runners
Belgarion
"We've made the decision to train him out of the Western Cape as the tracks are a lot more forgiving. When he won the Durban July he chucked a fetlock and when he ran in the race again, he chucked the same fetlock. He's had his issues, but at the moment it's the soundest we've had him in a long time."
Do It Again
"He's in top, top form. His prep has gone flawlessly. He's been in so many Durban July's, by now, we seem to have got it right. I'm very happy with where he is."
"Aldo (Domeyer) has always been known as a very quiet rider. Great balance. Great hands. He's the right type of jockey for Do It Again's seven-year-old season. The draw (stall two) is immaterial. Do not leave this horse out of anything. He will run his race."
Do It Again
2022 Durban July Contender
GET 12.0 HERE
New customers only. 18+ T&Cs and wagering requirements apply.
Hoedspruit
"He's the horse who is, I would use the word, unexposed in Group One level. I thought his run in the Met was a good effort on the back of a flat run in the Premiers."
"He's in very good form. I think we've prepped him correctly in bringing him into the Durban July fresh. We've got the perfect draw in three. Couldn't have pulled a better draw for this horse. Craig Zackey will put him to sleep somewhere in the race, forget about him and when the right time comes, pull him out and have a go."
Jet Dark
"I do agree with a lot of the comments that he has been counted out. Do not count this horse out. He's proven that he can run 2000m as we saw in the Met at Cape Town. He was the fastest-finishing horse, him and Do It Again. Do not count him out. He will run his race."
Pomp And Power
"Sadly, here in Natal, he's had very little luck. He had to overcome a bad draw in the Guineas and found himself in front. In the Daily News 2000, we had all the stories of no pace and, unfortunately, he was the horse who found himself in front and he fought very badly."
"It's not the way he likes to race. He will be tucked in in the Durban July. All our intentions are to 100% tuck him in. He can settle if he's given half a chance and, if he does so, then everybody is in trouble."
Michelle Rix discusses the returning champion, Kommetdieding
Kommetdieding
2022 Durban July Contender
GET 18.0 HERE
New customers only. 18+ T&Cs and wagering requirements apply.
"His work has been going good. After watching the public gallops, I think things are rounding off and I have no doubts that this will end on a high."
"We were going through the comparison photos from last year, and he's a completely different horse. He's twice the horse that he was in size. Mentally he's gone from a boy to a man. A lot of people are doubting the 60kg but he's a stronger horse to carry it. I'm very happy and when the penny drops with this horse (in the Durban July), you'll see a difference."
Brett Crawford speaks about Zapatillas
"He's been doing exceptionally well since his last start. I think he's come along even more since his last win. He'll most likely suit a true run race, but that's not without saying he can't run from off the pace. He's got the turn-of-foot for it. I think it's going to be a really tough race."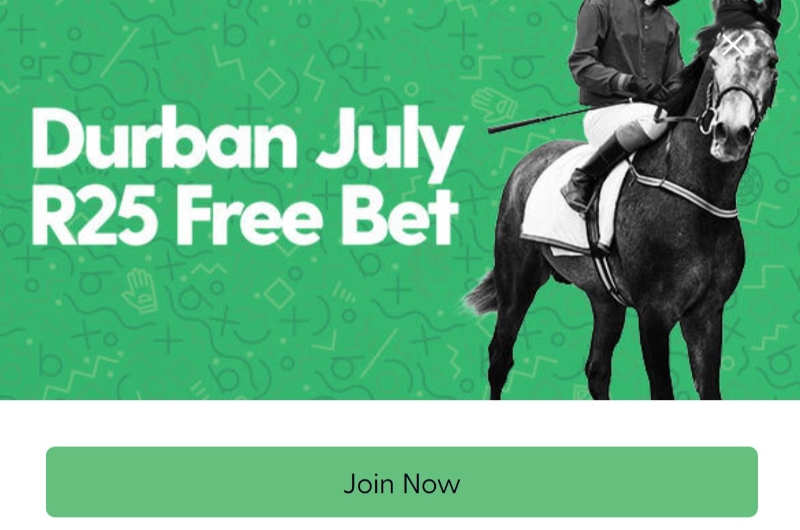 Dean Kannemeyer gives Waterberry Lane the thumbs up
"I was very pleased with his public gallop at Greyville. He's a very fit horse. He doesn't have to do much. I think he looks in good shape and he came through that gallop very well. He finished his race off well over 2000m (Daily News 2000) and I'm quite positive that he'll get the trip."
Sean Tarry talking about Flying Carpet
"I've been very happy with his prep. His last start was a little disappointing. They went very, very slowly. It was a race that we couldn't have gone and chased the pace as he was only prepping. It's not a draw (stall 18) that you'd pick, but it's a draw that you could put to good use if you ride the right race and with the race lacking in pace, it's probably where you want to be drawn."
JA Janse Van Vuuren discusses his two runners
Puerto Manzano
Puerto Manzano
2022 Durban July Contender
GET 101.0 HERE
New customers only. 18+ T&Cs and wagering requirements apply.
"Over the years, I've seen a lot of those Argentinian horses improve through the middle of their four-year-old years. Even when they turn five they improve more and he's been proven to be like that. He's in extremely good form at home. The only problem is he likes a long straight. He often gets there too late, which is my only concern about Greyville."
Second Base
"Ever since the Summer Cup, he hasn't really found his best form at home. We are working hard on him. He's been racing all season and we've freshened him up for the July. He's a horse who does come out the stalls sluggishly but one thing we do know about Second Base is that he'll stay the 2200m very well."

Joey Soma speaking about Red Saxon
"He's done very, very well in KZN. We made a bright move by leaving him here after the Daily News 2000. I was a little big disappointed by his public gallop. Rachel (Venniker, jockey) was happy but I wasn't as I wanted them to go a little bit harder in the early part of the gallop. He did finish off the gallop well, which was pleasing, but we might have to give him another gallop (before the Durban July)."
Paul Peter talks about the chances of Astrix
"I wasn't surprised (by his Premier Champions Challenge win). You know what, he's just blossoming. He ran in his first 800m race as a two-year-old and he's just trained on, and trained on. He's had his hiccups along the way, but they seemed to have been sorted out now as a five-year-old. He's getting stronger and I was really impressed with his gallop. I couldn't as for more. I'm quietly confident of a good run."