Durban July Results & Past Winners - former champions, trainers, jockeys and betting information
Knowing which runners have won the Durban July in the past can help punters with making their selection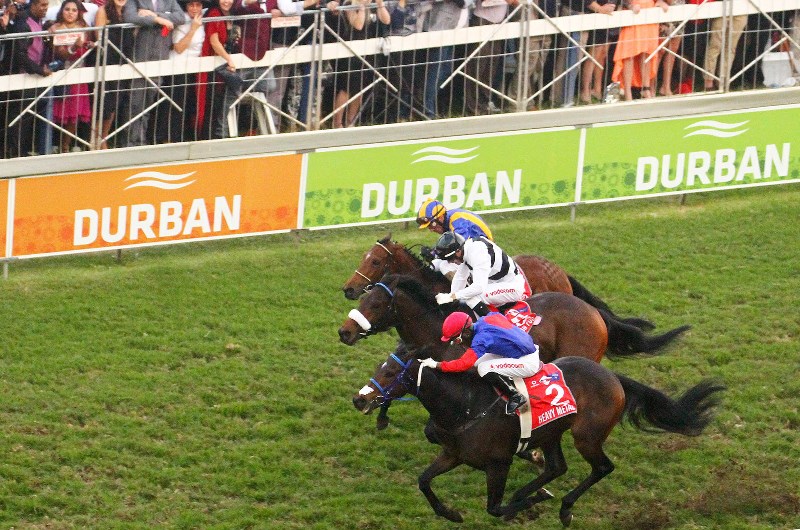 Champion winners of the Durban July. (Getty Images)
Durban July Results & Past Winners
The Durban July has been won by some of South Africa's best thoroughbreds and the Durban July results over the course of history speak for themselves.
Having a list of horse racing results gives punters an added advantage when making their Durban July selection and below is a list of every winner, trainer and winning jockey since 1999.
We have also included weight, age and the placegetters for the Durban July.
2019 Durban July result
The 2019 Durban July is due to run on Saturday July 6 and we will update the result when placings are official.
Durban July Winners
| Year | Horse | Age | Weight | Trainer | Jockey | Second | Third |
| --- | --- | --- | --- | --- | --- | --- | --- |
| 2018 | Do It Again | 3 | 54kg | J Snaith | A Marcus | Made To Conquer | Elusive Silva |
| 2017 | Marinaresco | 4 | 60kg | C Robinson-Bass | B. Fayd'Herbe | Al Sahem | Edict of Nantes |
| 2016 | The Congolmerate | 4 | 55.5kg | J Ramsden | P Strydom | Marinaresco | Mac de Lago |
| 2015 | Power King | 4 | 53kg | D Kannemeyer | S Randolph | Puntas Arenas | Tellina |
| 2014 | Legislate | 3 | 56kg | SJ Snaith | R Fourie | Wylie Hall | Futura |
| 2013 | Heavy Metal | 4 | 59.5kg | S G Tarry | S Khumalo | Run For It | Do You Remember |
| 2012 | Pomodoro | 3 | 55kg | S G Tarry | P Strydom | Smanjemanje | Chesalon |
| 2011 | Igugu | 3 | 55kg | M de Kock | A Delpech | Pierre Jourdan | English Garden |
| 2010 | Bold Silvano | 3 | 55.5kg | M de Kock | A Delpech | Irish Flame | Orbison |
| 2009 | Big City Life | 3 | 51kg | G S Kotzen | G Cheyne | Zirconeum | Forest Path |
| 2008 | Pocket Power | 5 | 58kg | M Bass | B Fayd'Herbe | | Bound By Honour |
| 2008 | Dancer's Daughter | 4 | 53kg | S J Snaith | K Shea | | Bound By Honour |
| 2007 | Hunting Tower | 4 | 55kg | C Laird | A Marcus | Buy And Sell | Jagged Ice |
| 2006 | EyeoftheTiger | 3 | 54kg | D Kannemeyer | G Schlechter | Sushisan | Equal Image |
| 2005 | Dunford | 4 | 52kg | M Bass | A Marcus | Silverpoint | Eventuail |
| 2004 | Greys Inn | 3 | 50kg | M de Kock | A Delpech | Superwood | Red Badge |
| 2003 | Dynasty | 3 | 53kg | D Kannemeyer | R Fradd | Yard-Arm | Red Badge |
| 2002 | Ipi Tombe | 3 | 52kg | M de Kock | K Shea | Angus | Tytola |
| 2001 | Trademark | 4 | 51kg | M Bass | P Strydom | Celtic Grove | Double Reef |
| 2000 | El Picha | 5 | 58kg | GV Woodruff | A Marcus | Young Rake | Free My Heart |
| 1999 | El Picha | 4 | 53kg | GV Woodruff | R Hill | Classic Flag | Circle of Life |
Betting & OddsPreviews & Tips